HKU offers exciting and dynamic opportuntites for students to gain hands-on experience and make a real impact in the innovation ecosystem. By connecting students with start-ups, we aim to cultivate entrepreneurial mindsets, facilitate career growth, and foster the next generation of start-up leaders.
Startup Connector
Startup Connector is a new initiative of Techno-Entrepreneurship Core aims to bring together students, alumni and faculty members from diverse background to form start-up teams. Through this platform, participants exchange ideas and find the right match for their startup ventures. Sign up below and our team will arrange 1-on-1 meetings with potential matches between teams and individuals. Meetup events will be organized throughout the year for connecting with even more potential matches.
Please sign-up if you:
Already have a start-up team and looking for co-founder, full-time or part-time employee; or
An individual who are interested in joining start-up team
Start-up Internship / Job Opportunities

If you wish to list your job openings, please contact Mr. Isaac Tsang at isaacwht@hku.hk or 3910 2726 for more details. 
Entrepreneurial internship programme(EIP)
Internship opportunities at TEC, TTO InnoHK Centre Office and HKU-supported startups are offered to students to:
integrate and apply knowledge gained in coursework in a real-life setting​

experience the business culture and challenges encountered in entrepreneurship​

gain hand-on experience from startup ecosystem and help them to prepare for their own startup venture in future​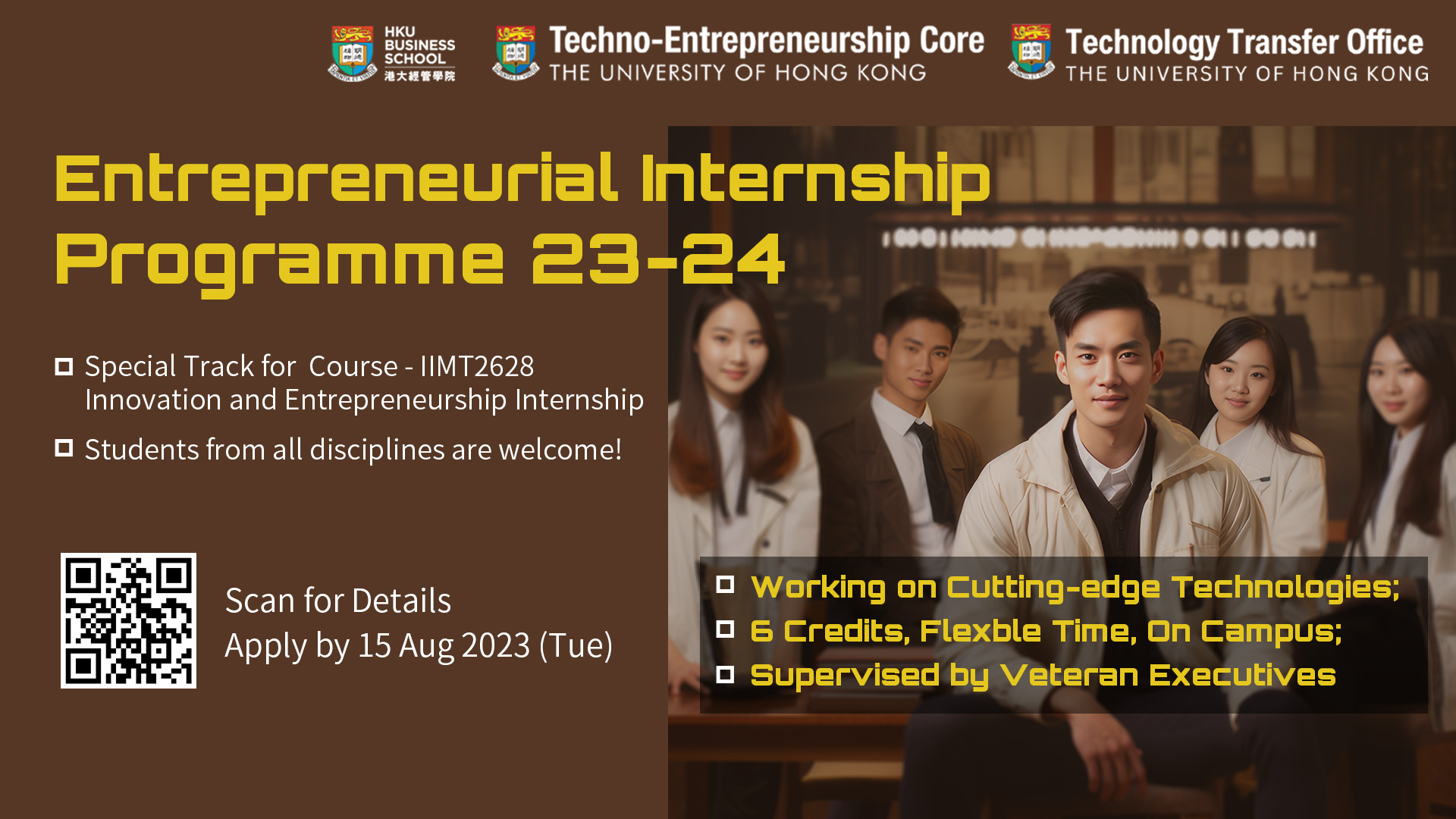 HKU  STEM Internship Scheme

The Innovation and Technology Commission (ITC) has set up the STEM Internship Scheme ("Scheme") to encourage STEM students to gain innovation and technology (I&T)-related work experience during their studies and to foster their interest in pursuing a career in I&T after graduation, so as to enlarge the local I&T talent pool. Each eligible student will receive allowance of HK$11,190 per month and capped at three months in each academic year.